Here is the my first visual style made for Windows 7...
MegaThemer Machine.
This theme is also entry to MegaThemer World Theme Design Invitation...
This competition would not be possible without our brother

deviantdon

and with his generous offer.
Thank you very much Donald.

1ExplorerStart.jpg
===
2Properties.jpg
===
3SideImages.png
===
4Winrar.png
===
5ControlPanel.jpg






WATCH VIDEO PREVIEW OF MegaThemer Machine in blue color.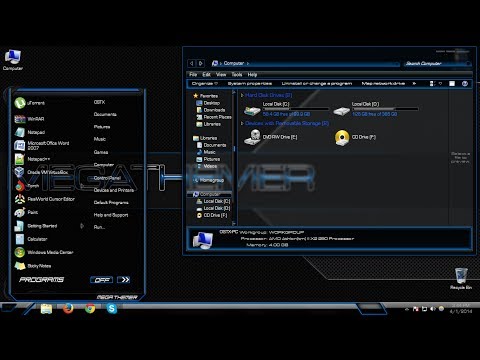 MegaThemer Machine theme pack for Windows 7 comes in 4x colors
(Red,Green,Blue and Pink)
:What is included in theme:
Theme installation setup
4x Background
Animated Cursor
explorer.exe
explorer.DLL
shell
shell32.dll
logo
Taskbar is enabled with x4 position (bottom,left,right and top)
:What is included in EXTRAS folder:
Black Glass Enhanced by http://curiouso9.deviantart.com/
Copy delete Animation modder by Program written by: Fixit
2x Gadgets
93 icons in PNG
93 icons in ICO format
Logon background
RocketDock Skin
shellbrd Image
Splash Screens
-Adobe PhotoShop CS6
-Adobe After Effect CS5.5
-Adobe After Effect CS6
System Genuine Image
LOGO for MegaThemer made by me
Timedate cpl images
winRAR theme
WinSATAPI.cpl
Finally MUI SIDE Panel images by me.
:Preview of all MUI Side images:
6MUI_Side_Preview.jpg
:PREVIEW OF ALL SPLASH SCREENS:
7AE_Splash_Preview.jpg
CREDITS and THANKS
HAMMERJACK

who give a test for theme.


ONE MAN ARMY

who helped me to make my first animated cursor.


Tiger

who give me a help just in moment when I needed.


Razorsedge

for making the modifications to the original .mui files
Thank you very much all.
If you find a problem in theme or bug please let me know and I will try to fix it.
All instructions are in download below for each theme.
Enjoy in this theme pack.
Little update:


Added new link to mediafire and file for RocketDock 4x colors skin for TOP position.
Forum content is currently locked to all Rookie members.


All you need is 10 post's and you may download all you like!
Click on the banner to see all the details.