This set may be too hot for some viewers.
Ask your parents before viewing the video, lol...
This skin pack style started awhile back, made some updates, plus added a bunch of cool new stuff.
-What's New-
-
Animated flames added behind the animated Logo.
-
Animated flames in the selection of backgrounds for the framed style skins.
-
A down sized version of the animated Logo in the selection of backgrounds for the framed style skins.
-
New re-designed frame with a nice inner & outer glow added.
-
Quickly edit the most common variables by clicking on the skin to bang open the UserVariable.inc file.
There's lots of fire, lot's of animation. Actually it may not be suitable for some CPU's, hehe..
This set is called...
megathemer_Red.png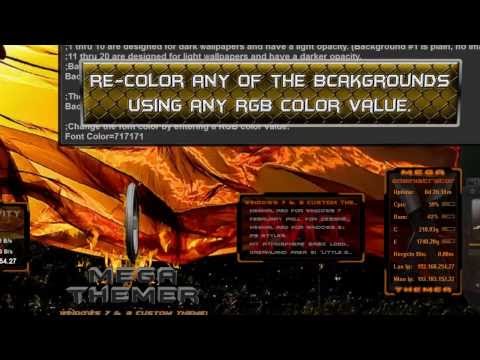 Once the video starts, click on the Gear icon Gear_40x40.png to select the '720p HD' setting.
animated_flames_red.png
We have to thank John ( Megabink ) for an awesome forum. After all, this skin pack is named after it, hehe..
Special Thanks to Anthony ( ONE MAN ARMY ) for helping me get started with the Xara 3D Maker app to make these animated logo's.
Credit goes out to Greg ( gsw953 ), Donald ( deviantdon ), & Ionstorm for all the input & inspiration which got me started using Rainmeter in the first place.
Special thanks to John ( CybaCreep ) for an awesome intro used in the video, plus a special HJ wallpaper.
And thanks to all the theme designers and wallpaper designers who post their work here which makes for an awesome video..
Xtreme.png
Preview_MT_AnimFlames2(Mesh)_900x431.gif
(
Click screen shot to enlarge
)
Rainmeter.png
What we have is a skin pack with 5 skins included..
Animated Logo, CPU, Network, Weather, & RSS Feeds.
The feature skin is an animated skin that displays a series of images as if it were an actual .gif file.
2 of the skins are a horizontal frame style, and 2 more are a vertical frame style..
-Installing a skin in the Rainmeter Skin Installer (.rmskin) format is easy.
Just double-click the '.rmskin' file (green Rainmeter icon) to open the package with Rainmeter's built-in Skin Installer,
and follow the instructions like you did when you installed Rainmeter. The skins will be loaded automatically after installing.
**NOTE** You have to have Rainmeter already installed for the skin pack to load/run.
The pack contents are typically unpacked here: Windows 8/7/Vista: C:\Users\YourName\Documents\Rainmeter\Skins folder..
-Edit the most common variables directly from the desktop.
Just double click somewhere on the frame/skin and the User Variables file will pop up.
From this text file you will see many options to choose from & edit.
This allows you to change the most common variables such as the frame color, background,
background color, font, font color, font size, font case, font style, etc., directly from your desktop instead of editing the .ini file.

Practically everything on these skins are editable!!! Read more in the 'Getting_Started.txt' file included in the download.
((
More Credits
))

Spoiler:
Information
There is 4 'Pre-Set' by color packages available to download.
The Blue, Gold, Green, and Red packs all have the same images/features.
I set-up the UserVariables.inc file in Blue, Gold, Green, and Red pre-set packs to
make it easier for the beginner to download a pack already set-up in a favorite color.
Once you know what your doing, any of the packs can be easily re-colored.
Forum content is currently locked to all Rookie members.


All you need is 10 post's and you may download all you like!