This video shows how to change the animated boot screen in Windows 7 using the app 'Boot Updater' made by Jeff Bush over at coder4life.com.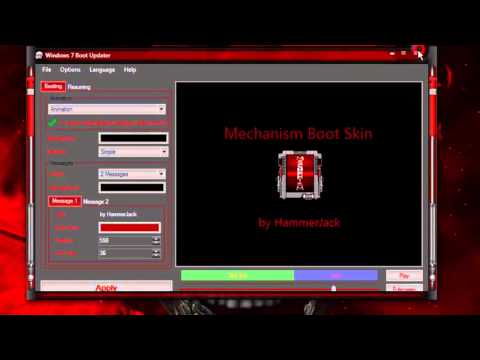 WARNING
Remember there are risk's involved so be familiar with how to recover the operating system just in case.
Personally I have never had any issues or problems. But I have read about some instances when users have had problems.
For example. It may not work with certain language packs. If you are dual booting with Windows 7 & 8 you may have also have a problem.
Information
Helpful links are also included with the Attachments that will show you how to:

1) Make a system restore CD/DVD, or system restore disk.
2) How to create a restore point.
3) How to boot into the Windows recovery options from the boot menu.
----------
- Download plus read more details/instructions/warnings about the Boot Updater app HERE.
----------
- If you experience any trouble viewing the video in your browser, the video is also available for download.
........../
Credits
\..........
- Thanks to Jeff Bush at coder4life.com for the app

Win7BootUpdater

.
- The Mechanism concept and art work is by the very gifted

icebabee

.
- The

Mechanism

theme build is by master theme designer gsw953.
- Thanks to Vigoni for the Mechanism wallpaper used in my video and screen shots. (Download with the

Mechanism

theme.)
- Thanks to Deviantdon for the

Mechanism wallpaper

used in my screen shots.
- Thanks to icebabee for her '

Skull

' wallpaper used in my video tutorial.
- Thanks to Stramp for his '

ULTRON

' wallpaper used in my video tutorial.
- And the

Mechanism Boot skin

used in this video was made by me.
........../
What's available in the download below
\..........
- Default Windows t Boot skin.
- Helpful links.
- How To Screenshots.
- Preview screens.
- Win7 Boot Updater by Jeff Bush
Forum content is currently locked to all Rookie members.


All you need is 10 post's and you may download all you like!
Click on the banner to see all the details.